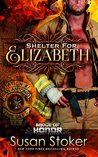 Shelter for Elizabeth by Susan Stoker
My rating: 5 of 5 stars
5 Stars!!!
I was given this book in turn for an honest review
Seeking a fresh start after a traumatic ordeal, Elizabeth never expected to fall for Cade, her friend's brother. Dealing with her agoraphobia was tiring; when a small incident gives her a new release and helps her find a coping mechanism she least expected, things become risky. Can Cade help Elizabeth before things get out of hand? Will this make them or break them?
There is always something comforting, exciting and unique about reading a Susan Stoker book. Susan takes a real life situation and brings it to the forefront of our minds; you can feel yourself living that situation and feeling each of the emotions those characters are going through. Her books become more like reality than fiction and she always gives her characters the happy ending they so desperately deserve. A Susan Stoker book without a doubt will always bring you happiness and contentment; always there to give you a pick me up when you need one most.
I really liked Elizabeth, she had a wicked sense of humour and she was very intelligent. Her friends and family were everything to her and the last thing she wanted was to be a burden to them. She was tough, strong and an inspiration. To have gone through what she had and still be fighting to live her life as simple as possible and to have found an interest she could do from the safety of her home was outstanding.
Cade stole my heart, he was caring, loyal, tough and understanding, nothing discouraged him, and he simply found ways to work round it or to help control it. His friends and family were everything, he would move mountains to help and support them. His honesty was beautiful, he wasn't afraid to put his heart out there or admit when he was wrong.
Elizabeth's story is inspiring and heart fulling; it shows hope and love can be found in many forms and we should never give up on our dreams or desires. I absolutely loved this story!
If you love romance with suspense, happy endings and a little erotica, you will love Sheltering Elizabeth by Susan Stoker. I recommend any of Susan's books to those who love a good romance with a happy ever after.
**Buy Links**