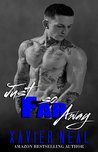 Just So Far Away by Xavier Neal
My rating: 5 of 5 stars
5 Stars!!!
I was given this book in turn for an honest review.
Can Isaac break his old habits or will his past drag him under once again?
Xavier has delivered another five-star read of excellence. She has given us a romance full of hope, compassion and second chances. This story pulls you in and has you feeling their every emotion and turmoil; it will break you and mend you.
When Isaac is first introduced, you find him self-assured and arrogant, however at the same time it's clear he wasn't happy with the life he was living and he was desperate to break free. As the story progresses, we see a broken, damaged man begging and searching for a new beginning; wanting to do the right thing, just unsure on where to start with no friends or family to call on.
Isaac and his underlying charm, determination and heart full of love will pull you in and what a place it is to be. I loved his humour, and loved that he found the strength to fight to be a better man rather than taking the easy route and using the woman who showed him he was worth so much more.
Teagan was sweet, clever, witty, beautiful and one of the most selfless people you could ever meet. She saw in Isaac something he never had and gave him the encouragement and support he needed to get his life back on track and above the law. Her mind full of wisdom, knowledge and facts was intriguing, beautiful and magical; she was simply unique.
I recommend this book to romance lovers who enjoy a little spice and a story full of hope. Xavier Neal is one of my top authors. I absolutely love her books!
**Buy Links**
---